---
Conversions are important interactions that you want visitors to your website, or users of your app to complete. They can include actions such as an online purchase or when someone calls your business.
It's important to understand what conversions are, how to use them, and why they are valuable to your business.
What are conversions in GA4?
Conversion events in GA4 replace UA goals. They measure a completed activity based on the most important events that you have set up.
Whilst events in GA4 track user interactions, conversions aim to measure any events that contribute to your business's success. For example, someone buying an item from your store, or singing up for your newsletter.
How to setup conversions in GA4
To count an event as a conversion, you simply click the toggle next to the event/s of your choice in the admin panel of GA4.
You can see below, a page of events with some changed to conversions.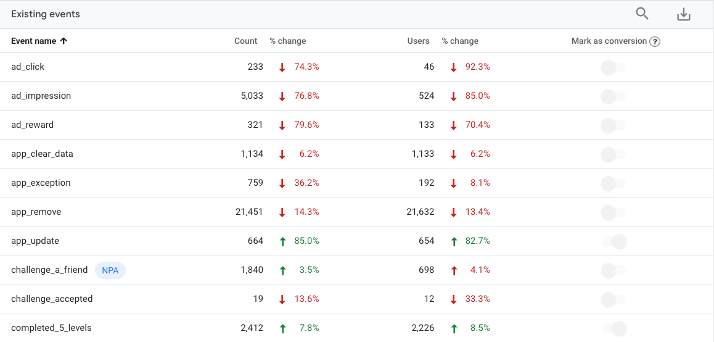 What conversions do I need?
To help work out what conversions you need, it's a good idea to start by setting up four different buckets/categories to put them in. Each of the buckets should have up to five required conversions in them. For example:
Conversions – when information about a user is collected by an email lead, phone call, purchase, scrolling to the bottom of a blog etc.
Major engagements – the key actions you want to track. This could include photo clicks, adding something to a cart, time spent on blog etc.
Vanity metrics – the nice to know engagement metrics that aren't necessary important, but still useful to know. This could include when someone visits a secondary type page, or clicks in the website navigation.
Testing – these are for testing a specific strategy, campaign, or conversion.
Google Analytics 4 allows you to have up to 30 differently defined conversions, which is 10 more than you had in UA.
Measuring conversions in GA4
The main way to measure conversions in GA4 is to mark any significant user interaction events as a conversion. But you can also measure engaged-view conversions from YouTube, and measure performance from advertising networks.
Engaged view conversions - YouTube
You can also measure engaged-view conversions (EVC). These show when someone has watched a YouTube video for at least 10 seconds, and then converts on your website or app within three days.
To measure engaged view conversions, you'll need to:
Link your Google Ads account to GA4
Activate Google signals.
Please note: at the date of writing this article, EVCs are not available in Google Ads accounts.
Measure performance from an ad network
By configuring an ad network, you can measure conversions from users who responded to an ad on your app.
Please note: this is only an option for apps.
Reporting on conversions in Google Analytics 4
While the difference between conversions and goals is largely a change in name, there are some taxonomy changes. Of significant importance is the fact that GA4 counts every instance of a conversion, even if it has occurred multiple times in one session. For example, if someone fills out the same form three times (in a single session), the conversion will be counted three times.
GA4 reports will help you verify that your events have been registered as conversions and give you insights into user activity on your website or app. The reports to pay attention to regarding conversions, include:
the realtime report
conversion paths reports
conversions report
conversion metrics.
Realtime reports
To start with, you'll want to verify that your events have been registered as conversions.
Once you have triggered an event, you can check the conversions by event name card in the Realtime report. If the event has been registered successfully as a conversion, you'll see at least one conversion next to the event name.
To access Realtime reports in GA4, go the left navigation on your dashboard and click Reports >> Realtime
The DebugView report
You can also use the DebugView report to see if your conversions have been registered. If your events have been registered, you'll see a flag next to the event name.
To use the DebugView report, you'll need to enable debug mode in Admin >> DebugView.
Conversions path report
The conversions path report can be used to understand the path your customers took to conversion. They'll also tell you how different attribution models distribute credit on those paths.
The conversion paths report can be accessed by clicking on Advertising on the left-hand side of the GA4 dashboard. From there go to Attribution >> Conversion paths.
Conversions report
The GA4 conversions report will highlight the most common conversion actions, the number of people who performed each action, and the amount of revenue associated with each action.
To access the conversions report, go to: Lifecycle >> Engagement >> Conversions.
Why are conversions important?
Conversions are extremely valuable to your business.
They help you gather meaningful data and allow you to differentiate between visitor who are interested in your products or services and those who aren't. Conversions can also help you identify problems with your online channels and marketing funnels.
If you'd like help setting up, tracking, and reporting on your conversions in Google Analytics 4, Integral can help. Contact us today to find out more.
---
---
---
#GA4
#ANALYTICS
#CONVERSIONS